! The Weekly Cartoon> <! Created by Bruce Garrett> <! Created using MultiEdit for Windows>

<!BODY BACKGROUND="backgrnd.jpg"> <!BODY bgcolor="#FFEBCD">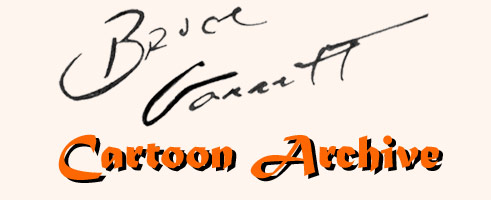 ---
June 27, 2005
---
News Item:
Tennessee Department Of Children's Services Opens Investigation Of "Love In Action" Over Charges Of Child Abuse
The Tennessee Department of Children's Services announced this week that it has received a complaint about child abuse in the "ex-gay" Love in Action ministry, which was screened and found to have enough substance to open an investigation.

Protests against Love In Action began after a teenager named Zach posted desperate messages to his blog, telling friends that after coming out to his parents, he was being forced into the program. In one post, the teenager discussed thoughts of suicide.

Love In Action director John Smid, dismissed as "ridiculous" accusations that teens were being forced into the program against their will. However, during a press conference the previous week, he asserted that the program is run "on the will of the parents", and that parents had a Christian responsibility to "to intervene on behalf of their children when deemed necessary."

Questions exist as to whether or not Love In Action has a license to run a sex therapy program for minors in Tennessee . In December of 1998, The American Psychiatric Association rejected reparative therapy as ineffective and potentially destructive.

In 1997, Smid described to the Memphis Flyer how he believed God helped people overcome homosexuality:

"I'm looking at that wall and suddenly I say it's blue. Someone else comes along and says, 'No, it's gold.' But I want to believe that wall is blue. Then God comes along and He says, 'You're right, John, [that yellow wall] is blue.' That's the help I need. God can help me make that [yellow] wall blue."
Copyright © June 26, 2005 by Bruce Garrett
All Rights Reserved.

Link
This site hosted by:
---
Bruce Garrett Cartoon. Weekly gay editorial cartoon. This HTML Document, and all linked images, unless otherwise noted, are copyright © 2005 by Bruce Garrett. All rights reserved. Send comments, questions and hysterical outbursts to: bruce@brucegarrett.com


This document was created using MultiEdit for Windows and/or BBEdit for Mac OS/X, The GIMP and/or Adobe Photoshop CS. It was proofed using Mozilla FireFox