! Personal Profile Page> <! Created by Bruce Garrett> <! Created using MultiEdit for Windows Version 8.0i>


Notes on Bruce Garrett...
Who I am:

Software Engineer for the Space Telescope Science Institute, at Johns Hopkins in Baltimore Maryland. Self-educated artist and craftsperson. Fledgling home owner. My inclination is to see for myself and make what I need.

Who I've been:

Your usual High School hamburger flipper
School cartoonist, artist, occasional trouble maker.
Stock boy in a mental hospital.
Road crew for a rhythm & blues band.
Freelance photographer.
Downtown courier.
Woodworker in a custom speaker shop.
Architectural Modelmaker.

Photo circa 1960...growing up in Chillum, Maryland...
What I am:

Gay Anglo male of mixed European descent (English, Irish, Scottish, German). Somewhat average build. Not Muscular. Deep set gray-blue eyes, long brown hair. Fair complexion, moderate body hair. 5' 9"; 150lbs; 0k bullshit buffer.


Easily Entranced By:


Long Haired Boys
Shostakovich, Rachmaninoff, Vaughan-Williams, Glenn Miller, Pink Floyd, Jerry Goldsmith, John Williams
Frederic Church Paintings
Lightning
Max Fleischer, Tex Avery and Bob Clampett Cartoons
Explosives
Lamborginis, 50s American Automobiles, Harleys
Sunsets, Stars...
Birds (particularly Owls...)

Photo circa 1970...at 16 in High School art class, with a constant companion.



Items Guarantied To Arouse Displeasure:

Yap Radio
Yap TV
To Repeat These Options, Press Seven...
The Washington Times
My Last Chance To Save Up To 50 Percent
Colorization
Cassette Singles
Reality TV
Decaffe Mountain Dew
Luxury 4WD Utility Vehicles
Baggy Pants, Visable Boxers
Inflatable Sneakers
Bush V. Gore

Some Books He would Take With Him To A Desert Island:

"Science and Human Values" by Jacob Bronowski
"Coyote" by Peter Gadol
The Last Herald-Mage Trilogy by Mercedes Lackey
"The Boys On The Rock" by John Fox
"The Impossible H. L. Mencken" by Marion Elizabeth Rodgers
Anything by: Mary Renault; Ray Bradbury; Arthur C. Clarke; Harlen Ellsion

Things Best Left Unsaid:


"Have you met Jesus?"
"Check out the tits on that babe over there..."
"Hello, am I speaking to Mr. Bruce Garrett..?"
"Is the network down?"
"Did you watch Survivor yesterday?"
"Try searching their Knowledge Base..."
"Love the sinner..."
"What's your sign?"
"Gore would have been just as bad..."



Artifacts found in the habitat:


Video tapes of old Republic serials, Max Fleischer cartoons and assorted PBS programs.
Four homemade computers next to a carefully restored typewriter
Assorted 30s to 50s kitchen appliances
Charcoal & ink drawings and oil paintings in various stages of finish
A Mont Blanc 149 and Parker Duofold, one of which is usually in my shirt pocket
An abstract metal sculpture of a streaking fireball titled "Skylab"
A cookie jar...full surprisingly...
A sign on the wall that says "Angry Candy"

Photo circa 1993...late 30s, still thin as a rail
...but not for long...


Primary Skill Set:

Can read the instruction manual
Can live without that 2.8 percent introductory APR
Can program on Microsoft platforms without succumbing to the Dark Side
Can read text of Bush V. Gore without bursting into flame
Unresolved Issues:

Do they really think those pants look good on them...?
Does he ever stop smirking...?
Favorite Sex Act:
Did you scan to this item first?






Where I've been:


Laying with a friend in the tall grass, stunned by a touch...
Quickly washing my face and bandaging my hands before mom finds out I was in another fight.
The end of an unemployment line, watching my companion's faces; surprised, resigned, angry, cheerful, stoic, afraid.
In the principal's office where I'd been sent by a teacher who, after telling me I couldn't check out a library book because I was too young to understand it, found out I knew a good many more words then she'd supposed...
Alone in my room with the lights out, sitting on the bed listening to my heart beating, immobilized by grief...
Watching for meteors in the desert, staring at clouds in the sky that were not clouds at all but immense shoals of stars...

Busy at my drafting table working on a cartoon for the web site. Except I don't use my dip pens much anymore.



Where I go:

For a walk, especially when I have something on my mind
To book stores record stores and comic book stores...often
To flea markets...too often
To my computer table...far too often...except it makes me money...
To my drafting table or my easel when it's time
Down any path that looks interesting
To a book or a symphony
To my friends
To the edge of the Pit, to the Silence, to the Fire


What I am looking for:

Something I didn't know before.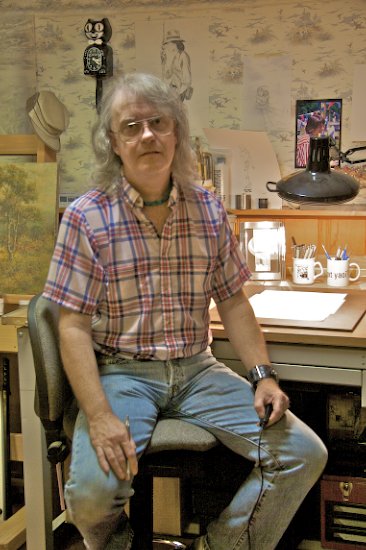 Me Today
---
Essays
Some people lurk silently on line...some people speak their mind and damn the torpedos. I do a lot of both. Computer communication technology has fascinated me since I had my first Commodore C=64. As a Gay man, I've found this technology particularly beneficial. By allowing us to reach out to one another directly, regardless of how isolated our individual circumstances might be, we can see ourselves clearly as human beings, and not strange, alien Others. We are no longer forced to view ourselves through the eyes of heterosexuals, a subtle fact the majority still hasn't figured out yet.
Ocassionally I'll take something I've posted on line and develop it further. Most of these pieces have appeared in varous on line forums.
---
Fiction and Stuff


<!P ALIGN=CENTER> <!A HREF="skywatch.htm"><!IMG SRC="sky2.gif" ALT="Skywatcher and Dragon"><!/A><!/P> Below is my public PGP Key


-----BEGIN PGP PUBLIC KEY BLOCK-----
Version: PGPfreeware 6.5.2 for non-commercial use
mQENAzh/7NgAAAEIANjjTUgYql+4PFcPZqiWPCNlRSe+Gc0AXJBsV6m7/T3NawP2
dDG9UUeeC17kjc1TxZfw+hToMjg/8vOIggZl3CVyMyT25gP65FxvZCYINeciejw5
ufs210cstgDIA44cxhbJMbJ4RqcPqrsBRITsKl7BItCOAa29Jw7JZZIp3xPJYvFY
LDB7tojuHi83BU1phzzmswVSlCU+Ta+KtgK19q1A4VX7y5uv4UFvQMSZ87qhZlS5
lgVBAFluEDGcdTPDIlUba1YVDLyG2mt9bf6SDV6cpRPZ2AOsEFXB/oKVmeBIpKvy
WTO4D67i2QTVW34n4y7RXTUrx4Kfmjfdj+AVopEABRG0IkJydWNlIEdhcnJldHQg
PGJnYXJyZXR0QHBvYm94LmNvbT6JARUDBRA4f+zYmjfdj+AVopEBAQDVCACBrS+q
uiiGRb20MFqqLBSnK1I6nXx2sRcClidiq5MsFow9DSRNjgi93wZ9RXklNRdE6GF7
SGj2589kmarW56z0LB2qh40VSbBUcBJB7iLi0JSlVone+eku7ynV3Oz/p+4OXWYt
rxVmdi4VgBbHAlPhil3oo78rAq+z0xYH26vsrkgfR/7mqDWi9OEswXfi1Dy7wj19
TtZDWdkxBbmyKeSzRo2i4tUfCmfndjesn2zFCNDXe7/5QTe8ipgIk4RH2xy46/N2
zaBdp6hhWHtct1ZOrR+cDViQc39TV2cJsxKnEI6peI8Gy5BrFbkghGdxMMv0auhk
vtzRoyTn72Jjc8fo
=7QkE
-----END PGP PUBLIC KEY BLOCK-----



---
N8 l--+ a-- f-+ n++ e d m+ b++ g-- v u+ w+

---
This page Copyright &copy 2007 by Bruce Garrett. All rights reserved.
Send questions, comments and hysterical outbursts to: bruce@brucegarrett.com
Last revision on May 26, 2007