! The Weekly Cartoon> <! Created by Bruce Garrett> <! Created using MultiEdit for Windows>

<!BODY BACKGROUND="backgrnd.jpg"> <!BODY bgcolor="#FFEBCD">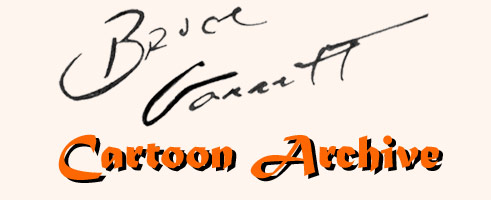 ---
June 13, 2005
---
News Item:
Youth Protests Disrupt "Love In Action" Forced Conversion Therapy Site
Protests erupted in front of the site of "Love In Action", a group which claims to be able to cure homosexuality, over the forced participation of unwilling gay teens. The protests began after teenager Zach Bartlett posted desperate messages to his blog, telling friends that after coming out to his parents, he was being forced into the program. In one post, the teenager discussed thoughts of suicide.

A former client of Love in Action, Tom Ottosen, who spent two years in the program, says The Director of Love In Action, "ex" gay John Smid, said to him that he would rather "you commit suicide" than "leave Love In Action wanting to return to the gay lifestyle" because "In a physical death you could still have a spiritual resurrection; whereas, returning to homosexuality you are yielding yourself to a spiritual death from which there is no recovery." Smid denies saying this, although he confirms a private conversation with Mr. Ottosen did occur.

Among the many rules of the Love In Action program, are prohibitions on objects and certain kinds of attire deemed "False Images". Among these are a requirement that the clients "may not wear Abercrombie and Fitch or Calvin Klein brand clothing, undergarments, or accessories", and that for males, "Bikini-style underwear is prohibited." Clients are required to undergo a complete False Image inspection every morning before entering the Love In Action compound, and items that violate the False Image or Attire rules are confiscated.

Currently there are no laws regulating such organizations, and no independent oversight of their treatment of minors.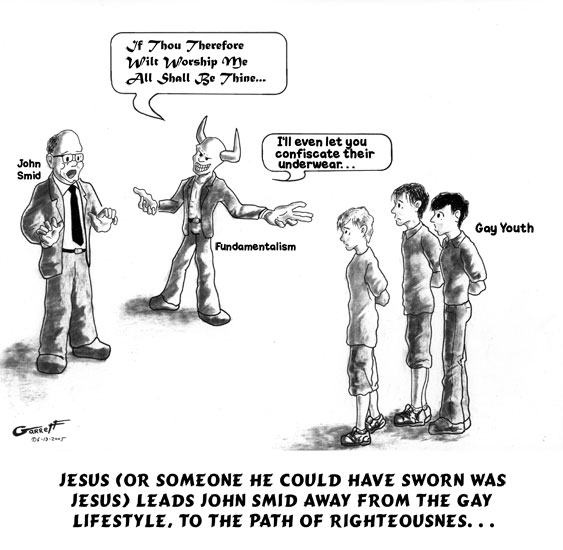 Copyright © June 13, 2005 by Bruce Garrett
All Rights Reserved.

Link
This site hosted by:
---
Bruce Garrett Cartoon. Weekly gay editorial cartoon. This HTML Document, and all linked images, unless otherwise noted, are copyright © 2005 by Bruce Garrett. All rights reserved. Send comments, questions and hysterical outbursts to: bruce@brucegarrett.com


This document was created using MultiEdit for Windows and/or BBEdit for Mac OS/X, The GIMP and/or Adobe Photoshop CS. It was proofed using Mozilla FireFox